An Introduction to Clash Royale
An Introduction to Clash Royale
Supercell's Latest Smash Hit
The mobile game developer Supercell has created a new mobile game called Clash Royale. This game is available on both Android and iOS and is quickly racing to the top of both app stores. The premise is simple. Think of your traditional tower defense style games, but turn it into a tower offense game. Clash Royale has a very fast-paced style and doesn't take long to learn, but it can take quite awhile to master.
Clash Royale Gameplay
As I mentioned before, Clash Royale is a tower offense game where you need to protect your three towers, known as Crown Towers. Both sides of the map are completely symmetrical and there are no base building aspects to this game, unlike Clash of Clans. You play cards by building a deck of 8 cards, all of which are creatures from the Clash of Clans game. At any given time, you can have four cards in your hand and a max of 10 elixir. Elixir is the currency used to play the different cards throughout the game. Managing this elixir and the available cards to you versus the cards that your opponent is playing is critical to your success in Clash Royale. A certain amount of awareness to what cards your opponent has and what their weaknesses are will do you will to achieve victory.
New cards can be earned by unlocking different chests throughout the game. Every four hours, you receive a free chest that can contain a small amount of Gold (used to buy and upgrade cards) or Gems (used to buy chests or unlock chests early). Once a day, you can also earn what is known as a Crown Chest, which you can earn by winning 10 crown points. You get a crown point by destroying an enemy player's tower. Other ways to get chests are to either win matches or buy them for gems. The type of chest will dictate how long it takes to unlock. For example, a silver chest takes three hours to unlock, while a gold chest takes eight.
Clans, cards, and chaos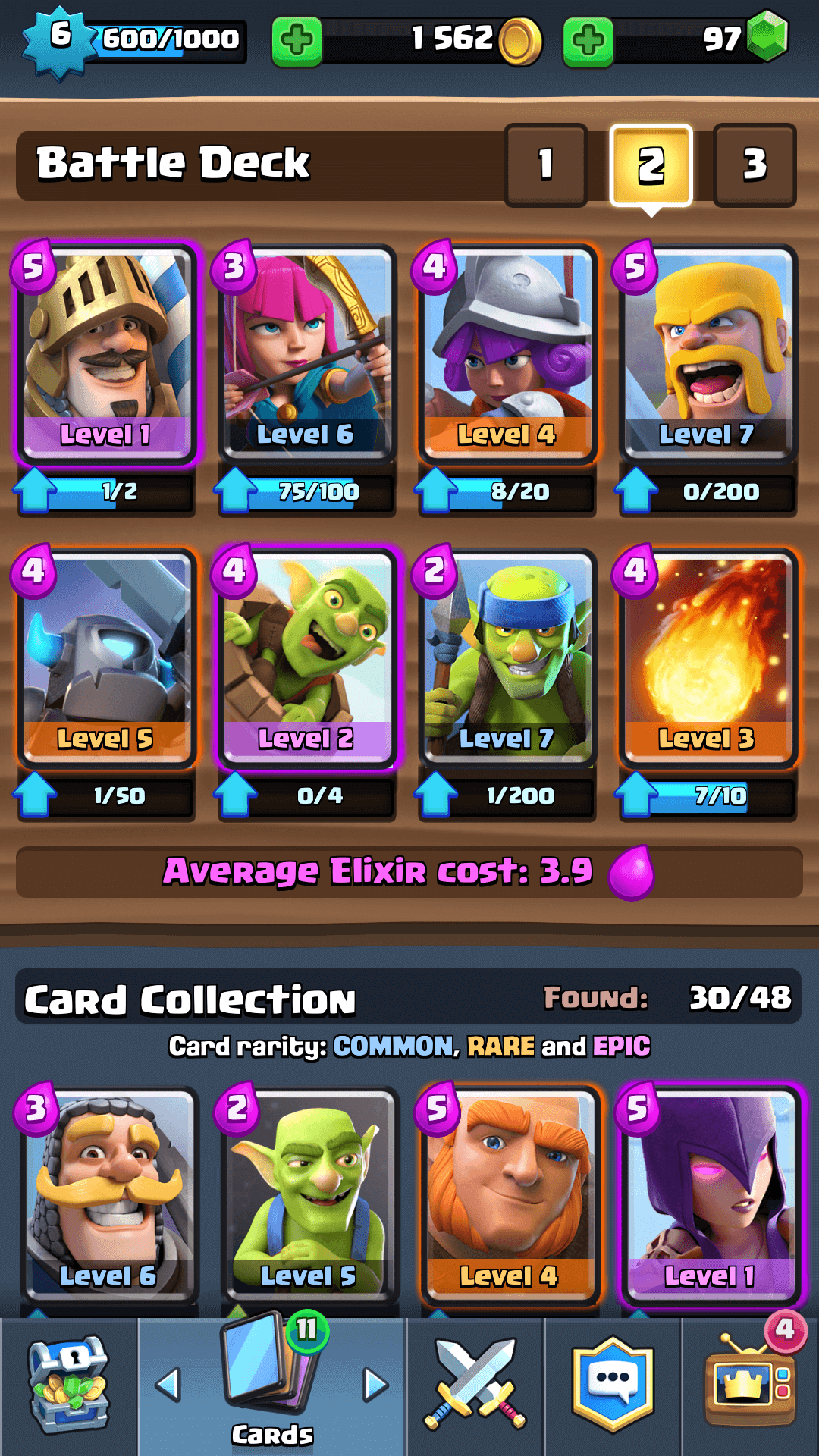 Since this is a real-time tower offense game, it makes sense for there to be a social aspect to the game. Much like Clash of Clans, Clash Royale allows you to team up with friends in what are called Clans. There are many benefits to Clans, such as helping you rank up faster by donating cards, as well as receiving cards to allow you to upgrade them more quickly. There are rumors that Supercell is working on implementing real-time match spectating (currently, you can only watch replays), as well as Clan War modes. Supercell is also constantly on the lookout for ways to balance the game more as the dynamics change and people figure out how to play different cards in new ways. This helps to keep the game fresh and keeps people from playing the same decks over and over again.
I will definitely be playing Clash Royale some more. I am having a blast with it at the moment and definitely want to see where Supercell plans on taking it. I'm really looking forward to Clan Wars now that I have joined up with a great active Clan and feel like I have just scratched the surface of the game, as I have quite a few more cards to unlock. Have you played Clash Royale yet? What are you thoughts on it? Feel free to leave a comment below! In future posts, I'll dive into different decks that I am using now, strategies for both defense and offense, and more!